WHAT MAKES THE ESCAPE ROOM USA DIFFERENT?
The Escape Room USA has been crafted over the better part of the last decade to be a place where friends, family, teams, and coworkers come together to participate in a hands-on, immersive gaming experience unlike any other. As local owners, we have taken all of our best ideas and inspirations, combining them into a place where people gather to have a fun, interactive experience while building relationships and lasting memories. Our Escape Room Adventures span space and time, reality and fantasy. We offer a handcrafted story that places your group at centerstage. Whether you are escaping the ill-fated Titanic or journeying into the depths of a fantastical high-tech mountain, your group of adventurers become the main characters and heroes of the story.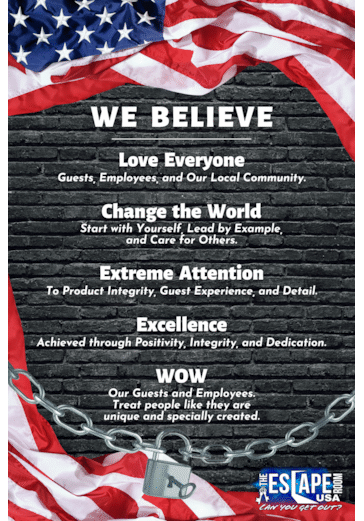 Unlike other escape room companies who buy pre-designed escape room games from vendors, all of our games have been written and designed by our own creative team—meaning you'll only ever find these exclusive escape room adventures at our locations. On any given day, we host date nights, families outings, corporate groups, and other special events ranging in size from 2-150 people! We also have a mobile Escape Room Adventure that allows us to bring The Escape Room USA to you!
The Escape Room USA opened its first location here in Indianapolis, IN in October of 2015 with five uniquely themed rooms. Since then, we have added two more rooms, including our only 90-minute adventure. In December of 2016, we opened our second location in Fishers, IN with five unique escape room adventures, adding our popular Christmas-themed adventure in December of 2020. We ventured out of Indiana in June of 2018, with our third location in Columbus, OH with seven escape room adventures. Our newest venue opened in November of 2021 in Westfield, IN with four exclusive escape room adventures. Work at Westfield began in 2022 on our newest escape room—an elven fantasy adventure. We love to see the excitement of people as they experience The Escape Room USA!
CORE VALUES
From answering phone calls, planning events, designing new puzzles, and welcoming guests into our venues, we strive to provide a five-star experience. We are guided in this mission by our Core Values. When you visit one of our locations, keep an eye out for our Core Values poster and expect to see these Core Values in action!
ACCOLADES AND AWARDS
Boasting a five-star rating and nearly 6,000 reviews, The Escape Room USA - Indianapolis has been rated #1 on TripAdvisor for Fun & Games in Indianapolis, IN for over six years. We've also recieved recognition from USA Today which named The Escape Room USA one of the 2021 TOP TEN Escape Rooms in the entire country.